Appendix D: Gap Chart Example and Template
A.      Example 'Gap Feedback Figure' from Community Transitions Project (Note- Plotted are average scores: yellow line indicates the range of scores; also see the open ended comments made by raters and numbers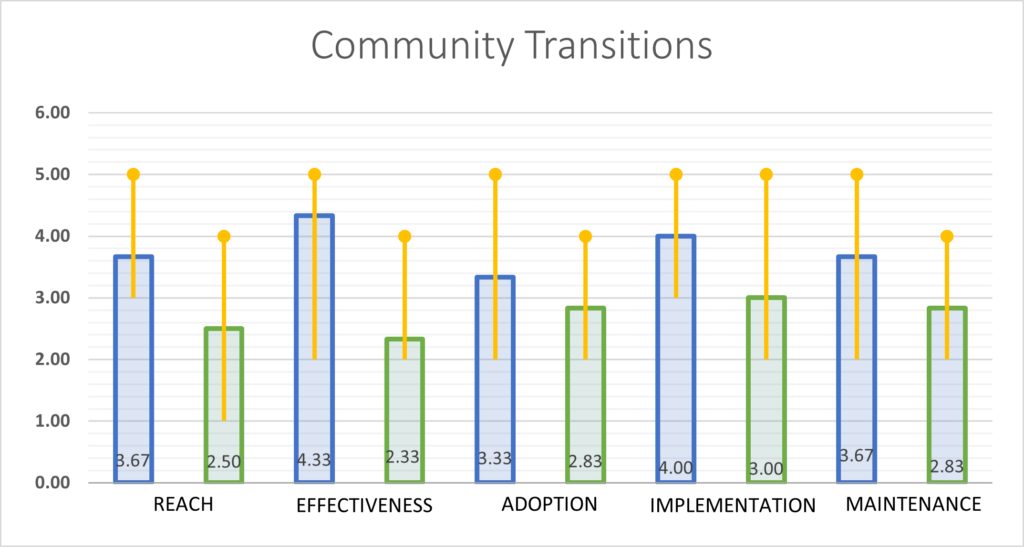 RE-AIM Dimension                                                 Open Ended Comments and Explanations
REACH

Site response #1: I think we should expand to more hospitals as the referral numbers have been low and we are now fully staffed. Since [name redacted] left, and even a bit before that our numbers have been super low.

Site response #2: Honestly unsure, have not been made aware of current enrollment numbers routinely at this time.

Site response #3: This is difficult for me to assess since I just started with [health system name redacted] and am not familiar with RE-AIM. I am answering after reviewing the PowerPoint slides provided.

Site response #4: It has been hard with lack of stability. Noe we are in our last year – will have to maintain relationships to continue project under renewal

Site response #5: Even though we reach out to [hospital name redacted] and [hospital name redacted] and emphasize with notification, they are not notifying us. It makes it very difficult and frustrating to have Veterans enrolled.

EFFECTIVENESS

Honestly I'm not sure I can say how satisfied I am with the Effectiveness as I don't know at this point how many Veterans have re-hospitalizations, ED visits, or follow-up PCP visits.

Need to maybe revisit data as a team to clarify actual current effectiveness at identified intervals (adjusted vs non adjusted)

From reading the measures slide you provided, I would think that looking at the ER utilization after community hospital discharge and re-hospitalization would be extremely important in evaluating the effectiveness of the CHTP program.

Again, been hard with lack of stability in employing a nurse

Due to disruption in enrollment and discontinue in some hospitals, there is no enough enrollment; which is satisfactory. Due to telephone number changes we didn't have any Veterans calling us.

ADOPTION

Previously some people at the hospitals tend to be amazing and give CHTP a bunch of referrals; however, since there have been so many changes I think we seem unreliable to the community hospitals (i.e. closing the program for a bit after [name redacted] left, having [name redacted] only 2 days/week which they often see as unhelpful since they want a POC daily, not working with most of the hospitals anymore). Having the staff turnover as well as the opening and closing and scale-up and scaling down of the program has serious impacts of our trustworthiness and reliability to our stakeholders.

This I believe will be more of a challenge with this program since the Mission Act rolled out. There are several teams of people who function in the same capacity as the CHTP within the RMR VA.  Community hospital personnel may have more than one-point person that they notify about the admission. This could present a challenge with enrollment.

When we roll out, people refer, but I do not think we have the bandwidth to roll out beyond where we are.

It was not effective. We reach out by phones and also to [hospital name redacted] and [hospital name redacted] . Our main goal was for them to notify us <about> hospitalizations. But only two-three of them are doing that.

IMPLEMENTATION

Need to increase notifications, our numbers have definitely been low since [name redacted] left even though [name redacted] has done an exceptional job of outreaching everyone she possibly can to get referrals, adaptations may not be effectively tracked at this time since [name redacted]  and [name redacted] haven't received full training on that, at times the program's implementation and who we work with doesn't fully follow intended program processes.

I fell the Mission Act could also present a challenge in implementation.

We must make out small numbers really mean something by implementing well.

It has been hard to get discharge summaries. Because of that, unable to complete database. Due to the gap we have, it seems the hospital staff are directly communicating and finding their way with the VA system.

MAINTENANCE

The program ends in Sept 2020 and even though we applied for a grant and are applying for more CHTP may be discontinued for a while if it's not our first roll-out site for QAQ. That's going to really impact our stakeholders and our relationships with them.